teenytinyfootprints
Aug 03
It's not just the pigs in our sausages and the chickens in our sandwiches that have suffered to reach our weekly shopping carts. Other daily groceries including so called "cruelty free" and vegan items like bread,cookies, haribo and margarine are causing suffering to the orangutan too. Even the most innocuous of items that unsuspectingly contain palm oil are responsible for destroying rainforests driving orangutans, whose survival already teeters on the brink, even closer to extinction."  source

Beautiful article.  It's just heartbreaking to know what's happening to orangutans that are just so special.  And the sumatra tiger. I knew a woman who went to the Orangutan orphanage, it changed her - forever.   I think that's part of the problem. People are so removed from the consequence of what they're indirectly supporting.  I bet a majority portion of them would change their ways and some would even get actively involved they they could just spend 1 day at that orphanage.  Just one.  

Here's some babies - this video makes me all teary.  Poor little orphans.  Please don't buy anything with palm oil in it and avoid paper products from Asia Paper & Pulp.  If you don't know - go with something you do know.  
That video is amazing and reinforced the reasons why I avoid products that contain Palm Oil! I refuse to support the production and usage of Palm Oil when it is destroying the most intelligent and beautiful creatures in the world!
Jul 23
Do you think I have achieved my challenge?
So …. someone said that I was unable of writing a blog about absolutely anything, so not wanting to prove this statement right I undertook a challenge - for this individual to name something and for me to write 200 words on it! To my surprise, the word that came out of their mouth was 'cheese' (random I know). At first I thought it would be impossible to write something fun and interesting but once I got researching and writing, it turns out there's actually quite a lot out there about this oh so creamy flavoursome food! I wrote …..
The word 'cheese' is derived from the latin word 'caseus' which translates as 'to ferment, become sour'. Archaeologists have found evidence of cheese being made from the milk of sheep AND goats as far back as 8,000 BC! Blimey! There is no real evidence however as to where cheese originated from but the general consensus is that it was developed in the Middle East. There are now hundreds of varieties of cheeses being made in just about every corner of the globe. Milk has even been known to come from Horses, just as the Mongolian Nomads did. The most expensive cheese in the world is made from the milk of three moose in Sweden called Gullan, Haelga and Juna. They all live together on a small farm in Bjursholm and are said to be tame individuals (which is vary rare for moose!) Can you believe they take over two hours each to be milked and this can only be done during certain months of the year. The end product is sold for £320 per pound!!! Even weirder … there is a cheese created using human breast milk!!! Bleurgh!!! Le Petit Singly is a small farm in France, which makes the cheese from donated breast milk. Proprietors claim that it is extremely rich in vitamins and has a slight hazelnut taste to it! (Each to their own!!)
I hope you have enjoyed reading my response to the challenge and I'd love to hear if you think I've passed the test :-D Thanks
(Source: Wikipedia)
Jul 20
This week, conservationists from Dian Fossey Gorilla Fund observed, for the first time ever, a pair of juvenile gorillas doing something remarkably clever: destroying sharp, wooden snares set out by poachers to trap them. Just days earlier, a gorilla had been killed in a similar snare nearby, which may have familiarized the youngsters with the workings of those cruel devices.

Incredible. Read the rest: Young Gorillas Observed Destroying Poachers' Traps

OMG this is the best story I've seen in ages!!!
I am so overwhelmingly happy to read this!!! I pray that all primates begin destroying these awful snare traps as they deserve to get their own back. Dian Fossey would be so proud!
Jul 16
The Lion King in the West End
I was fortunate enough to be seated in the fourth row of the stalls at The Lion King in the breath-taking Lyceum Theatre in London on the 4th of July and I must say it was truly mesmerising! The opening sequence brought tears to my eyes as I watched all the stunning animals gather around me and take their places on stage. From start to finish I was completely engrossed in the story, even though I knew it inside out already! It is very much a feel good theatre show in which you don't want to end. The vocals were absolutely outstanding, especially when Shaun Escoffery (Mufasa) sang He lives in you. A tear found its way down my cheek, I had a lump in my throat, goose bumps all over my body and the high note he sang sent shivers down my spine. The staging was faultless - with the stampede scene being exceptional! It was so thrilling not knowing how they were going to portray this delicate part of the film. From where I was sitting, it was as if the wildebeest were going to trample straight into the audience! This show is for certain one of my favourites and I would see it every fortnight if I had the chance. I'm so glad I bought the soundtrack when I was there - I must have listened to the whole album everyday since going! It is not simply one for the kids as there is some decent comedy in there too - predominantly provided by Rafiki (played by Brown Liniwe Mkhize) EVERYONE and I mean every single one of us has to see this at least once in their lifetime. Don't miss out!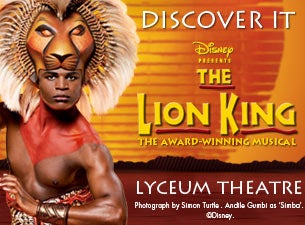 Jun 19
Londoners are always too busy to sit down to eat!
I started my internship with National Geographic Kids Magazine yesterday and I noticed that no one sits down when they eat! It's like some sort of culture that everyone is too busy to take time out in their day to partake in the most crucial part of our daily lives! Us Londoners constantly have to be somewhere and soon! Personally though I think there's nothing better than a delicious Pret A Manger sandwich eaten in the park on a sunny day! :-D (which I plan on doing tomorrow that's for sure!)
May 21
Product review for Clinique – Stay-matte oil-free makeup
I received a free sample in my weekly magazine which I was overjoyed about since my current foundation is running low and I haven't yet decided which one to choose. It promises to help control the oil breakthrough for women suffering oily or combination skin, leaving a matt and flawless finish all day long.
The shade was 'Neutral' which I automatically knew would be too dark for my skin – looking at the 20 different shades this foundation has to offer I'd be more suited to 'Linen'. Aside from that fact I wanted to see if the description was right and the foundation would protect from the embarrassment of a shiny face!
At first it gave great coverage, felt really light on the skin as well as to the touch, is paraben free and smelt really good. After 8 hours of wear; three small itchy bumps had appeared on my t-zone, the foundation had gathered around my eyebrows, it had turned into an uneven coverage and worst of all I had my usual shine :-( Another positive though is that it was very easy to remove, leaving my skin very soft.
I think maybe as a liquid foundation is does not provide full protection for women with oily skin but could possibly be improved with an oily skin specific face powder (which I plan to test out tomorrow with the other half of the sample).
(Source: selfridges.com)
May 10
Another one of my random doodles …. :-D
May 08
Found a bunch of doodles that I thought i'd share. Would love to know what people think! :-D
Apr 21
Most hilarious cat fail of the week!

It is one of the funniest things I have seen in a long time :-D I mean come on …. how can you NOT laugh!!!!
(Source: twitter.com)
Apr 18
How amazing are these shoes?!?!?!?
This month I stumbled upon what I think are an absolutely stunning pair of heels! Now ladies, don't forget to keep breathing …
Behold …
They can be found in Beyonce's video Let's Move Your Body. Not only is this an amazing song with an amazing dance routine (that is a definite must watch and attempt!) but these gorgeous Louboutin's complete my month! At first I thought they were simply ankle boots with multi-coloured panels. But on further investigation I discovered that the mid section is actually a cut out panel that Beyonce had teamed with knee high socks!!!!! Pure genius!
L.O.V.E!!!!